The HARDI P1.5, P6 and P8 pressure sprayers are compact, easy to use and built for professional pesticide application. Capacity is 1.5, 6 or 8 litres.
A simple hand pump is used to pressurize the tank. Over-pressurizing is not possible. Spraying is controlled from the trigger valve. All seals are of highly resistant material and tolerate most mineral based products.
The P1.5 spray can be adjusted from 45° cone spray to solid stream. Maximum reach is 5 m. Spray quality is from a fine mist to coarse drops.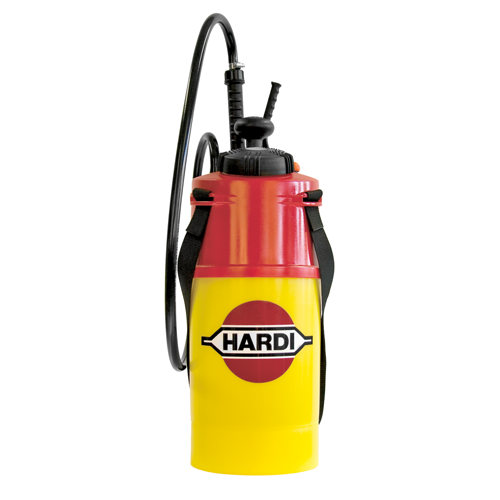 HARDI 15 litre Backpack sprayers feature a leak proof tank design with piston pump for easy cleaning and maintenance.
With pressure up to 3 bar, they are ideal for insecticides, fungicides and herbicides. The Controlled Fluid Valve can be used for spraying herbicides. It only sprays at 1 bar, thus ensuring correct pressure for the herbicide nozzles.
The tank is unpressurized and spraying is controlled from the trigger valve.
These sprayers contain minimal parts, with no special tools needed for maintenance. A graduated 250 ml measuring jug is included as standard.
A range of accessories is also available, such as : triggers and lances, with different extension lengths (up to 2.00m), or 2, 3 and 4 nozzle-booms, adjustable nozzles.