Comfortable palm fitting gun. For use
with any TeeJet spray tip. 1/49 NPS (M)
inlet connection.
Forged brass body and nickel-plated steel
trigger. Teflon® valve seat and packing,
stainless steel valve stem.
SPECIAL  NET PRICE $ 105.50 + gst
SS TeeJet 6671-18 & 6671-48 - WANDS
Curved wand with fixed body (no swivel) for pressures up to 125psi (8.6bar) suitable for gun AA31
SPECIAL  NET PRICE $ 35.80 + gst (18″)
SPECIAL  NET PRICE $ 57.80 + gst (48″)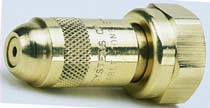 Knurled body of tip rotates through a half turn to provide spray selection from wide angle, finely atomized cone spray to a straight stream
spray.
SPECIAL NET PRICE $ 38.50 + gst
Swivel hose tail, connection ¼"M NPT and hose 10mm. Made of brass
SPECIAL  NET PRICE $ 29.85 + gst