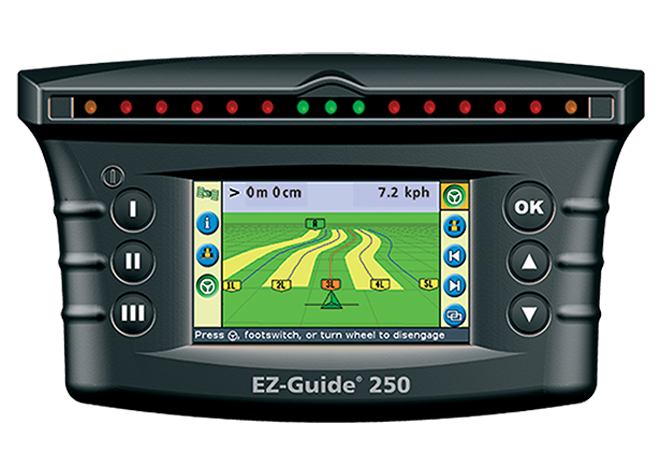 The Trimble® EZ-Guide® 250 system is an entry-level display providing high-quality guidance capabilities at an entry-level price. It is ideal for farmers who desire basic precision agriculture functionality for fields that require lower-accuracy corrections. It is well-suited for broadacre crop applications that can be accomplished with submeter accuracy. Use it for basic guidance to make your farming operations easier in any farming season.
PRECISION AGRICULTURE CAPABILITIES ► Manual guidance and mapping ► Trimble® steering system compatibility ► USB data transfer for in-office analysis
EASE OF USE With its colour display, one-touch function buttons, and intuitive interface, the EZ-Guide 250 system allows you to quickly access guidance lines and coverage maps and easily perform your day-to-day farming tasks.
ENHANCED PERFORMANCE By offering overhead and perspective views of your field, the EZ-Guide 250 system allows you to easily see where you are and where you have been. It also features bright guidance LEDs that provide visual feedback to keep you on track.
SATELLITE COVERAGE AND ACCURACY LEVELS The EZ-Guide 250 system is compatible with the GPS satellite constellation in many areas of the world. Get submeter pass-to-pass accuracy with SBAS—ideal for farming applications that can be accomplished with lower-accuracy corrections.
STEERING COMPATIBILITY Upgrade to a Trimble EZ-Steer® assisted steering system, to complete your total guidance package and operate with ease.
FEATURE MAPPING Perform point, line, coverage, and area mapping in a variety of field patterns. This flexibility allows you to work in different patterns and shapes that best fit the layout and contours of your field.
HANDS-FREE GUIDANCE CAPABILITIES Upgrade to the Trimble EZ-Steer assisted steering system for low-stress steering capabilities for your farming applications. The EZ-Steer system turns the steering wheel for you by combining a friction wheel and motor with guidance from the display. Easily install and transfer the EZ-Steer system from vehicle to vehicle for use in all stages of the crop cycle.
INFORMATION EXCHANGE AND FARM SOFTWARE Transfer your collected data from the field to the office using a USB drive. Use this data within Trimble Ag Software solutions for accurate analysis and record keeping for your farming operations.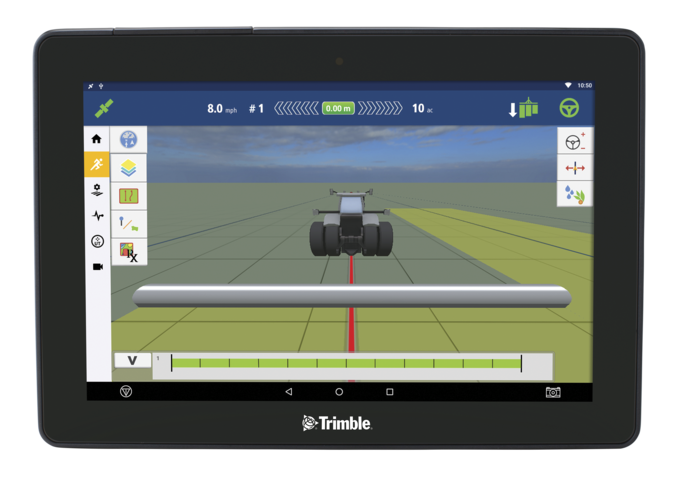 The Trimble® GFX-750™ display system continues a strong tradition of sleek, easy-to-use displays from Trimble Agriculture. With a simplified installation process, your cab will be less cluttered with this automated guidance system. Add in Bluetooth® and Wi-Fi™ connectivity to go along with ISOBUS compatibility and you can tackle farming applications from every season across all of your equipment brands.
EASY INSTALLATION Designed from the ground up to save valuable cab space and install quickly, the GFX-750 display along with a compatible guidance controller can be installed with an auto-guidance system in just half a day in most vehicles or in under two hours if using manual guidance, eliminating costly downtime in the field.
ISOBUS COMPATIBILITY The GFX-750 display works on most tractor brands or with most implement manufacturers on your farm with ISOBUS control. The Task Controller function with automatic section control, as well as documentation, is fully integrated and easy to use in the working screen.
ENHANCED CONNECTIVITY Our most connected display ever comes with Wi-Fi, Bluetooth, CAN, and for the first time, BroadR-Reach® high-speed communications to allow fast and easy transfer of data between vehicles and the office. The display is environmentally hardened for the ag vehicle environment and runs Precision-IQ™ software which connects directly to the Trimble Ag Software suite.
ANDROID OPERATING SYSTEM Running a modern Android™ operating system, the GFX-750 display performs at high levels for an intermediate price. The system allows you to customize the display for the way you work, and is highly upgradable to meet your farm's growing needs.
AgLeader InCommand represents a solution for every farm and field activity and Year-Round Functionality: From planting through harvest, and every field activity in between.
Display-to-Display Communication Share maps, information and more with other InCommand displays in your operation.
ISOBUS Connectivity Universal Terminal provides the ability to control ISOBUS-compliant implements. Many controllers are compatible through serial control.
Unmatched Visibility Get a virtual window into your planter with row-by-row detail for confidence as you move through the field.
Satellite Imagery Maximize field visibility by using satellite imagery.
View Two Screens at Once Compare planting maps with live harvest.
Every Hero Has a Sidekick : InCommand 800 serves as a great second display, and complement to InCommand 1200. InCommand 800 can also be used as a stand alone display on operations that don't require the robust functionality of InCommand 1200.
See the display comparison chart below for details on how InCommand 800 measures up.
Get more done together : Connect all your InCommand Displays whether working in the same field, different fields, or from one season to the next with DisplayCast. Efficiency in your operation increases when you're connected.



BRAVO 400S LT is a rate controller with an integrated guidance monitor which manages both liquid and hydraulic functions, without any external ECU. It offers the same functions as Bravo 400S, easy to install and characterized by an excellent price/performance ratio.
MAIN FEATURES • Automatic boom section closing • Preset for connection to automatic driving system • Variable application rate management through prescription maps • Controls up to 7 boom sections and hydraulic functions • Can be connected to the full range of Arag GPS receivers.
computers and switch boxes
Bravo 180S is the smallest computer belonging to the ARAG Precision Farming range but still offering high performances. A compact and cost-effective tool but extraordinarily efficient and precise to meet all requirements of small-medium farming machine operators. The head unit BRAVO180S is available in different models : Orchard, Crop and Multirow, and different version studied to control different numbers of sections.
We offer a selection of switch boxes, developed to meet the most different needs: from 2 to 6 sections; available versions with hydraulic controls, compatible for use with solenoid valves or electric valves; foam marker connection and compatibility to SELETRON are an available option.
ISOBUS CONTROL SYSTEM FOR SPRAYERS
The standard ISOBUS (ISO11783) defines the communication protocol of the electronic devices of equipment on the agricultural machine, regardless of the manufacturer, allowing them to exchange information and interact. The system is based on a single monitor named Virtual Terminal (VT), through which the operator can see, manage and set all the parameters of the tractor and equipment connected to it through the special ISOBUS socket.
The equipment is provided with the Implement ECU, which checks all the functions of the implement and manages the communication with the Virtual Terminal.
The standard envisages also the possibility to connect other control devices(pushbuttons or joysticks, etc.) to facilitate the control of the equipment. These are called Auxiliary Inputs.
The Implement ECU IBX 100 ISOBUS has been tested with the most important tractormanufacturers using the Isobus system.
Also available with 3TS.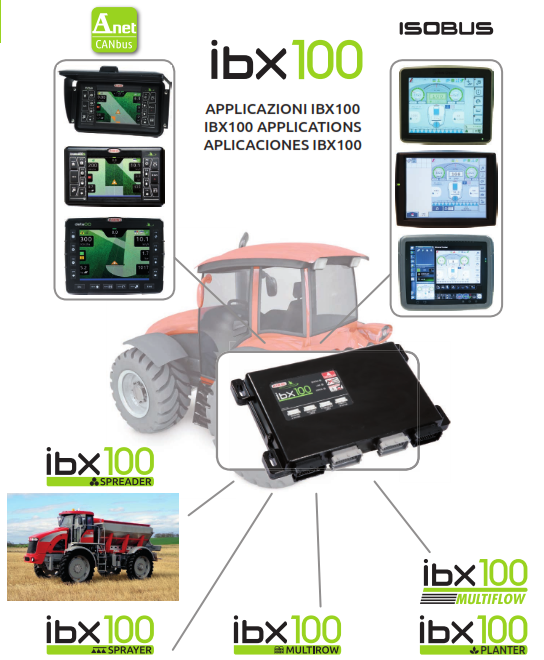 VALVING AND CONTROL SYSTEMS
We carry an extensive range of valves, such as :
Section Valves and Proportional Control Valves, both STD and HGH Flow versions, fork and flange coupling
Main Valves, fork and flange coupling
Manual Pressure Relief Valves
Electric Ball Valves
The joystick EXPLORER allows to manage all spraying and hydraulic functions directly from the handle, ensuring a solid anchor point and a stable acceleration control.
MAIN FEATURES
Tactile feedback about status messages will be transmitted through vibration
15 keys to control up to 39 functions spread over three pages and can be selected using dedicated buttons.
4 status LED.
Silicon rubber backlit keyboard.
Mounting clamp (Ø 27mm) or threaded M10.
Completely waterproof IP65.
Power supply 9-16 Vdc.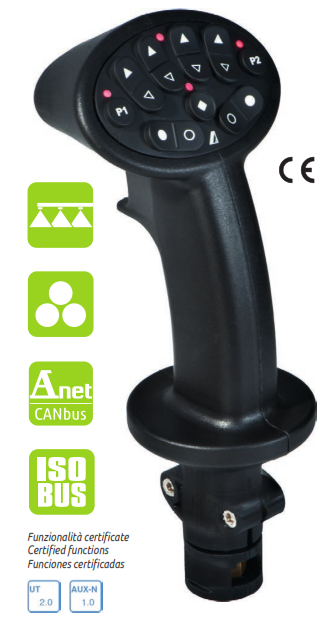 A-net CAN-BUS version for direct connection to DELTA 80 / BRAVO400S and NINJA which completely replaces the panel switches.
ISOBUS version (AUX-N) with automatic assignment of functions when connected to ISOBUS ARAG IBX100 control unit.
SELETRON is a cutting-edge electronic shut-off nozzle valve that, applied ARAG nozzle holders, allows the separated control of every single nozzle. The electronic parts embedded in the electronic valve control the actuator the communication with the computer* via Can-Bus, receiving the opening/ closing commands and outputting the information about valve status. SELETRON allows you to divide the boom in as many sections as the number of nozzles thereby minimizing any overlap and reducing running costs and impact on the environment (Buffer Zone). SELETRON multiple nozzle holders (twin and fourfold ones) allow you to automatically select the nozzle (or the nozzle set) according to the speed and required instant spray rate (Variable Application). Reduced current absorption limited to the time the electronic valve is activated.
One single cable for power and command transmission to up to 96 actuators.
Easy to install, compact size and weight allow retrofitting to upgrade existing machines.
Installing the valve next to the nozzle ensures the continuous fluid flow inside the boom, with the following advantages: lower dead volume, lower external contamination during boom flushing, uniform concentration of chemical along the boom, at the beginning of every new spraying job.