AGTECH HAKWES BAY offers different options when it comes to flowmeters, available with paddle or electromagnetic, with standard flanges or fork connections. the capacity goes from a size 3-30l' to size 40-800l', depending on the model and accordingly to the operator's needs. Accessories and spares are also carried in stock.
PRODUCT OVERVIEW : DiGIWOLF
Paddle flow-meter with DIGIWOLF digital display
Benefits • High accuracy • Programmable multilingual graphic display • Available version with external battery (12 Vdc) • Display snap-on cover
• Body with fork connectors for flexible connection layout • Sapphire paddle pin to minimize rotational friction and maximize sensitivity and accuracy • Paddle assembly equipped with 'TWIST' system for either cleaning or replacing operations without the need of any tools • Fully sealed and watertight electronic sensor • Rates from 10 to 800 l/min
Features • Instant rate display (l/min) • Supplied fluid display • Unit of measurement: liters or US Gallons • 2 separately resettable counters • Programmable flow threshold alarm (min./max.) • Assisted constant setting procedure • Characteristic mistake: 1% of the full scale • Operating pressure: up to 20 bars* • Parts in contact with the fluid are made of fiberglass and Delrin ® reinforced Nylon
*: operating pressure depends on selected connector/union.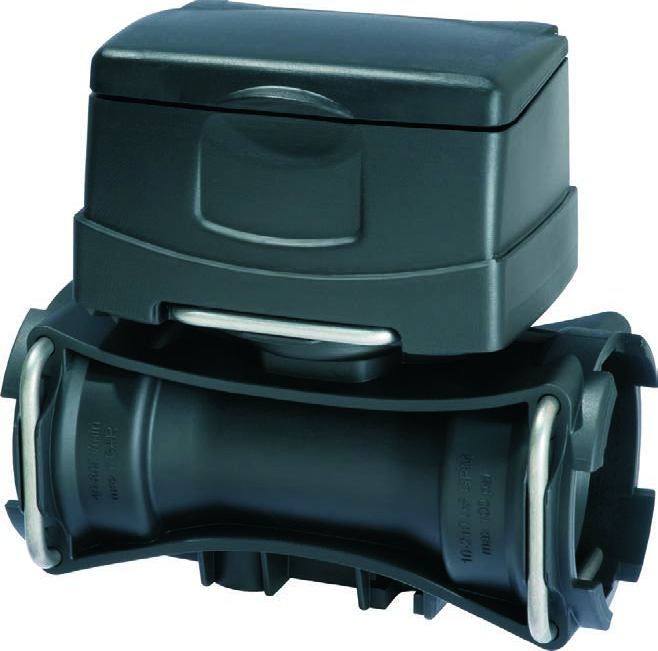 PRODUCT OVERVIEW : ORION2
ORION 2 electro-magnetic flow meter
Advantages • No mechanical moving parts inside the pipe • Performances independent from fluid density and  viscosity • Low sensitivity to turbulence • High precision • Low maintenance
Characteristics • Typical error: 0,5% full scale • Working pressure: up to 40 bar • Power supply: 11 to 15 Vdc
• 0-12 Vdc pulse output with frequency proportional to rate • Max consumption: 300 mA • Output only by flowing fluid • Flanged and Fork versions available • Parts in contact with fluid made of polypropylene and Stainless Steel 316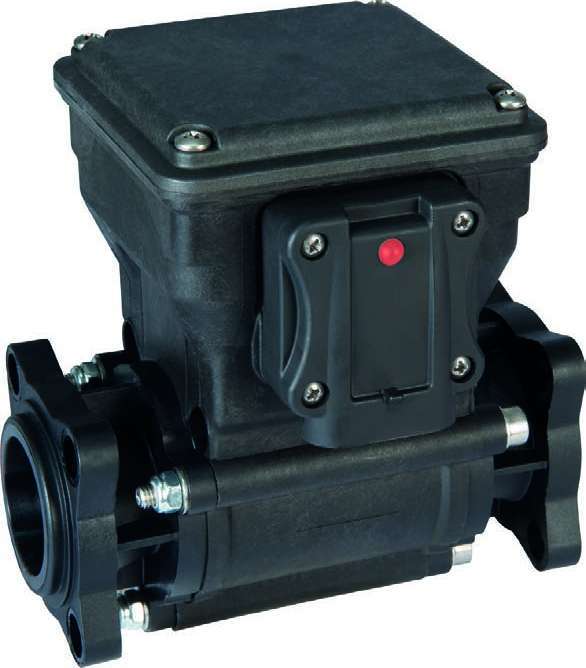 PRODUCT OVERVIEW : POLMAC RCv
REMOVABLE TURBINE FLOWMETER.
Plastic (IXEF) flowmeter with a stainless steel axial turbine.
Rotation on these supports: stainless steel (bearings), ceramic or ruby.
Flowmeter body with removable male threaded flanges and flanged hosetail.
Removable turbine unit and sensor.
Sinusoidal-wave, square-wave or 4-20 mA sensors
MATERIAL : IXEF
SIZE : 1"
FLOW RATE : 10-100L'
PRESSURE : 50 bar
SUPPORTS : ceramic
PRODUCT OVERVIEW : POLMAC RCg
REMOVABLE TURBINE FLOWMETER.
The Rapid Check flowmeter series is extremely practical when carrying out maintenance operations, and maintains the precision of the standard turbine flowmeters.
It is possible to simply unscrew the body to remove, check, and (if necessary) clean the stainless steel axial-flow turbine.
A single removable body contains a turbine and a 4-20 mA sinusoidal-wave or square-wave sensor.
Body material : NYLON
SIZE : ½
FLOW RATE : 3-20 L'
PRESSURE : 20b
SUPPORTS : ceramic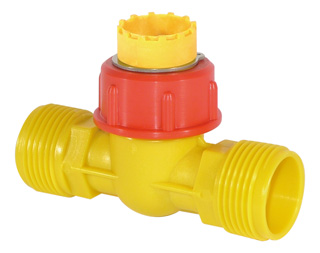 SPARES AND ACCESSORIES AVAILABLE