AGTECH HAWKES BAY's orchard sprayer TRIFAN STINGER steadily sits on a galvanized steel chassis; the 2000L tank, the bonnet (pump cover) and the shroud are made of very sturdy fiber-glass, has 3x 600mm SV fans, and a COMET brass pump with output 161l' and 50b. The 4-sections (L/R + U/L) can be customized in different configurations to suite the operator's needs and controlled via different head units, in order to suit the operator's preferences.
The main exceptional characteristic of the TRIFAN STINGER is that it is extremely and surprisingly simple, having left behind the excessive complications that are sometimes mistaken as necessary.
TRIFAN STINGER is just like an "old-school boy" : has no need for frills. will just get the job skillfully done, and won't let you down for any silly reason.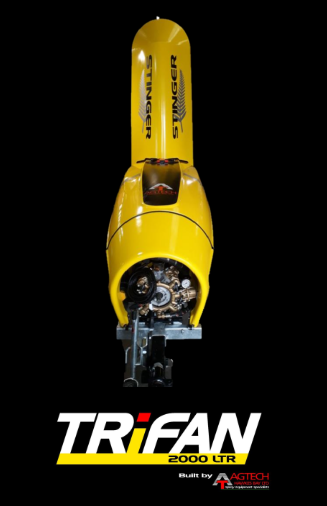 This freshly delivered TRIFAN STINGER, has been put to test by his new owner (the tank strictly filled with fresh water, due to the stage of growth of the trees) and we believe that this photo gives good proof of the amount of atomized "spray", air moved and coverage.
We believe this photo tells much more than many, many words, and we also believe that, if this orchard sprayer were a super hero, his name would be Capt'n Stinger and his motto would be : DON'T FAKE IT, MAKE IT !!!
This old-school boy deserves a lot of respects,  and has sometimes earned the aversion of some that could not stand him, because he would just "tell it how it is".
HE probably is a super hero. For real.

For all enquiries, please contact us via e-mail : office@agtech.co.nz or call our office 06 879 5233.