This grape sprayer, exactly like the TRIFAN STINGER, boasts a solid but compact construction and a "small-footprint" that allows her to nimbly make her way through some of the narrowest rows in the Vineyards, with a maximum tank width of 1080mm and tandem wheel set-up, this unit can safely operate in rows down to 1.6 m.
It has a sandblasted and painted steel chassis, a 2000L tank and a bonnet (pump cover) made or robust fiber-glass.
Available in a 2rows version and a 3rows version, can come with a fresh water tank and/or protection side panels as an optional.
ARAG 4-sections controls, and ARAG head-unit in the cab, a Comet high pressure pump.
Once more, the key-words are simplicity and reliability.
One of the real advantages of our specialized over-row "Dual-Boom" is that it allows each spray head to operate independently and can cross-over behind each other to ensure that the distance between canopy and nozzles is always correct. This also makes the 3row unit easier to turn in tight head lands.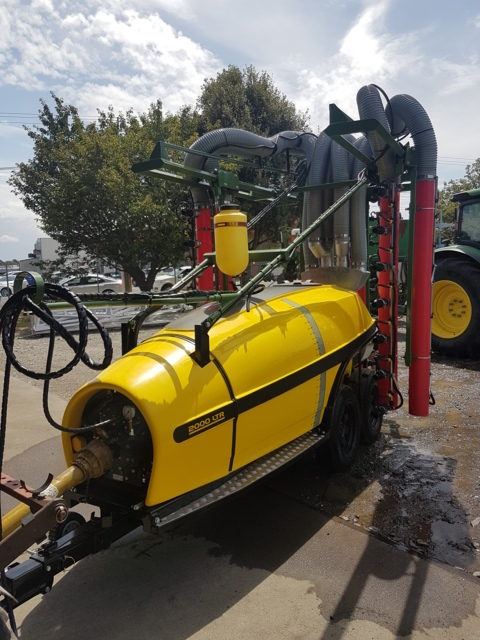 For all enquiries, please contact us via e-mail : office@agtech.co.nz or call our office 06 879 5233.